The Candlestone is the second book in the Dragons in Our Midst series and the third book chronologically (after Eye of the Oracle and Raising Dragons).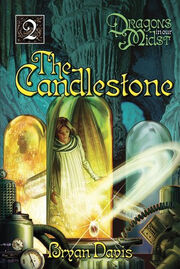 (From the synopsis at
daviscrossing.com
.)
The Candlestone continues to follow Billy Bannister, Bonnie Silver, and their friends where Raising Dragons left off.
Billy and Bonnie wonder about a number of unsolved mysteries. What was the strange book that the dragon slayers used to summon a dragon? Where is the magnificent sword that seemed to disintegrate the evil Devin? And what happened to The Candlestone, that strange gem, always absorbing light and with it the powers of dragons or dragon children within its sphere of influence?
The Candlestone not only absorbs light, it captures and holds encoded light, including transluminated humans, people who have been transformed into light energy by Excalibur, King Arthur's great sword. When Bonnie enters the stone herself, she learns that many disembodied souls have fallen prey to the gems powers, but no one has ever escaped.
On November 1, 2014, Christian Friends Productions announced they were moving ahead with the Candlstone Film after the first film receiced high praise from fans and the author alike.
Alex Randazzo will return as Billy Bannister, Aaron Henry will return as Walter Foley, Rebecca Nelsen is in talks to return as Bonnie Silver, and a source said Al Berner would be pleased to return as Professor Hamilton.
Rumor has it that Bryan Davis was offered the role as Dr. Conner, but no official comment has been made.