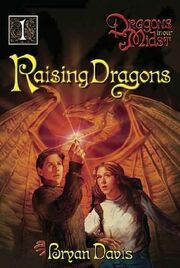 Raising Dragons

Author

Bryan Davis

Release Date

June 21st 2004

Publisher

Living Ink Books

Pages

371

ISBN

0899571700
Description from the back cover of Raising Dragons:
Raising Dragons is a contemporary fantasy novel that inspires young people to dig deep within to find their God-given strengths and use them to overcome any obstacle. It is both a hair-raising, modern-day adventure and a glimpse into another world—a world of knights, dragons, and fair maidens.
A boy learns of his dragon past; a girl has known of hers for years. They combine their faith, courage, and love to overcome evil, a slayer who seeks to bring an end to dragon heritage, forever.
The kids at school call Billy "Dragon Breath" for good reason. His breath is bad! It isn't the normal, morning-mouth bad; it's the hot-as-fire, "don't-you-dare-get-near-me" bad. Trouble erupts when his hot breath sets off the fire sprinklers in the boys' restroom at school, and his parents learn that they've kept their secret for too long. Billy finally discovers the secret. His father was once a dragon! Now that's a piece of news a guy doesn't deal with every day! Billy feels betrayed, alien, lost. When the dragon slayer traps him on a cold mountaintop in West Virginia, Billy learns to battle with weapons of steel and spirit while relying on a power he doesn't understand, a power that helps him learn to trust again.
Bonnie, an orphan, tries to find a home, someone to love her, even though she feels like a freak because of a body feature that she calls a deformity. But this unusual feature becomes a life-saving attribute as she discovers that her love for others and her faith in a creator hold the answers she's looking for.
The Graphic Novel
Edit
The graphic novel version of this book was published November 1, 2014. The artist, picked by Mr. Davis, is James Art Ville.
Four years ago a christian Filmmaking company, Christian Friends Productions, contacted Bryan Davis about the possibility of making Raising dragons a movie. He agreed, and a low-bugdet film is in production. See character pages for details on who is playing your favorite charactors.
Principle photography finished up June 29th, 2013, and the movie is set for a release date in late May 2014.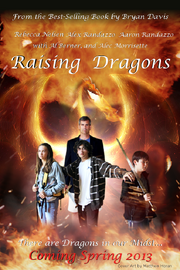 The movie's website is www.christianfriendsproductions.com