The Circles of Seven is the third book of Dragons in Our Midst.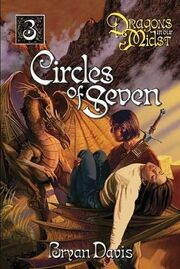 (Taken from daviscrossing.com.)
In Circles of Seven, using their dragon traits and the wisdom they gained through their earlier adventures, Billy and Bonnie explore a multi-dimensional domain of evil. In this realm, they navigate seven perilous worlds, each one manifested in a circular plane of existence that leads them deeper into the domain of a powerful enemy.
The seventh circle holds a group of prisoners, captives of the evil mistress of the circles, and Billy has to find a way to set them free and give them new life. When tragedy strikes along the way, Billy has to face the most difficult decision of his life, whether to forsake Bonnie to rescue the prisoners or to find a way to save her, his best friend in the world.
Ad blocker interference detected!
Wikia is a free-to-use site that makes money from advertising. We have a modified experience for viewers using ad blockers

Wikia is not accessible if you've made further modifications. Remove the custom ad blocker rule(s) and the page will load as expected.